White Ribbon Day 2022
Residents across Gwent are being asked to get involved and support White Ribbon Day on Friday 25 November.

White Ribbon Day is an annual event that marks the United Nation's International Day for the Elimination of Violence Against Women.

Every week in Gwent, 33 women's lives are at risk of serious harm or danger because of domestic abuse or sexual violence.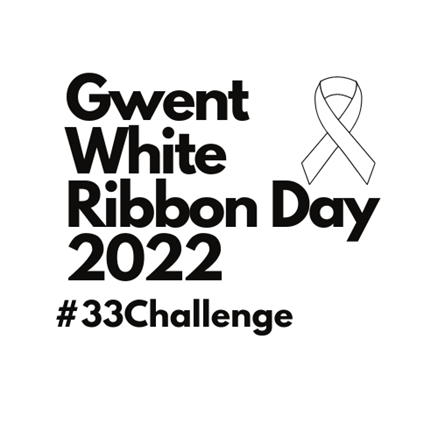 This year residents, businesses, schools, and community groups are being asked to sign up to the #33Challenge to raise awareness of this hard-hitting figure.

The Police and Crime Commissioner for Gwent, Jeff Cuthbert, said: "White Ribbon Day is extremely important to raise awareness of the devastating impact that violence against women can have, not only on individuals but their families too.

"This year we are encouraging people to take part in a #33Challenge to raise awareness of the number of women who are living in high-risk situations every week because of domestic abuse or sexual violence.

"We need your help to encourage others to take a stand against violence against women and I urge anyone experiencing abuse to speak out and seek help.

"Please don't suffer in silence, help is available."

The #33Challenge is being organised by Gwent Regional VAWDASV Partnership which is a multi-agency collaboration working across Gwent to prevent violence against women, domestic abuse, and sexual violence.

People, families, schools, organisations, sports teams, and community groups can set their own challenges focusing on the number 33 and are urged to post their actions of support online. The challenge could take place on Friday 25th November or anytime during the 16 days of action which ends on 10th December.

An online support pack is available to download from the Office of the Police and Crime Commissioner website and includes challenge ideas, and suggested content for social media channels. Business and organisations can also show their continued support by encouraging their staff to sign up for training, so they are equipped to recognise the signs of domestic abuse and understand what help is available.

The #33Challenege is being supported by the Office of the Police and Crime Commissioner for Gwent and Gwent Police.

Chief Constable Pam Kelly said "Any form of violence against women and girls is unacceptable and we at Gwent Police are committed to building safer communities by tackling the issue and ensuring that we get the best outcome for our victims.

"It can be tough to make that first contact but I would urge anyone who believes they are a victim of this crime to come forward in the knowledge that we will support them and treat them with care and respect. It is everyone's duty to make a stance against any violence and of course violence against women and girls."


Amy Thomas, Regional Lead Advisor for Gwent VAWDASV, said: "White Ribbon Day and the subsequent 16 days of action, enables everyone to stand up against violence against women.

"The murders of Sarah Everard and Sabina Nessa in 2021 provoked a national conversation about women's safety and the public took a stand to condemn violence and abuse against women in society. However, as we start to recover from the Covid pandemic, we are now understanding that lockdowns and social distancing have not only created a curtain to hide domestic violence but also reduced the ability of victims to seek help, so protecting women has become more challenging than ever.

"In raising awareness of White Ribbon Day through sport and sporting events, we are looking to kick off a discussion for everybody to play their part to learn about gender inequality and violence and make a commitment to take action to make change in themselves and their communities."

Gwent has a range of support services for anyone affected by abuse or violence, as well as those who are worried about their own or others behaviours.

The Live Fear Free 24/7 helpline is available for anyone affected by abuse and supports victims, survivors and those close to them can call 0808 8010 800 or text: 078600 77333.

In an emergency always call 999. To report an incident call 101 or message @gwentpolice social media channels.