Tier 2: Police Community Fund
What is the PCC Police Community Fund?
This Fund aims to enable children and young people in Gwent to be safe, healthy and happy, building a better future for themselves and their community by tackling community based issues in a lasting and impactful way.

Building a positive relationship between children and young people and the police, based on mutual respect, is essential. Through focusing on early intervention and prevention the Fund will support children and young people who are vulnerable or at-risk to move forward with their lives and realise their full potential, establishing resilient, safer and more inclusive communities.

Neighbourhood Policing Teams are well placed to know the needs of the local community so are fundamental in working with local organisations to support and help solve identified issues. Local Inspectors, together with Gwent Police representatives, will facilitate and enable the generation of project ideas from within their respective communities that target children and young people who are at risk of entering, or are already in the criminal justice system, or have been victims of crime.
---
Who can apply?
The Fund will support not-for-profit organisations seeking to deliver projects and services working with children, young people or vulnerable adults under the age of 25 who live in the Gwent Police Force area. The Fund will focus on projects supporting children and young people who
may be in danger of entering the criminal justice system, or
have become victims of crime.
Bids are encouraged for sums of between £10,000 and £50,000 and funding is available for up to three years.
Full details of the priorities and criteria of the fund, including who is eligible to apply and for what type of projects and costs, can be found here.
---
How are applications made?

The process which follows submission of a PQQ is detailed below:
PCC Police Community Fund - Process Map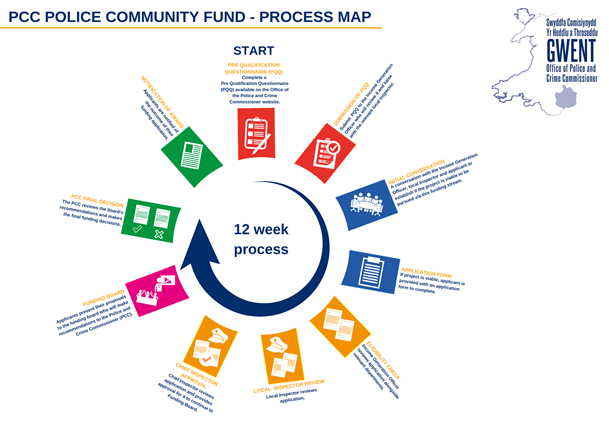 The Police Community Fund 2021/22 application process is now closed. All applicants to the 2021/22 fund will be notified of the outcome of their application in early March 2021.

Dates for the 2022/23 funding application process have not been set due to the Police and Crime Commissioner elections in May 2021. Any future funding opportunities for 2022/23 will be updated on this website in due course.

Applicants are, however, able to submit Pre-Qualification Questionnaires (PQQs) for consideration in due course for the 2021/22 financial year.
---
Funding Awarded:
---